On-site Cafeterias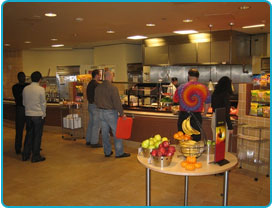 Cafeterias or Snack Bars Throughout New Mexico
If you are looking for a professional company to provide an on-site cafeteria service with a skilled management team then chose Canteen of Central New Mexico. We provide cafeteria food service management to a variety of industries throughout New Mexico.
Canteen of Central New Mexico offers a dynamic management team along with well-trained chefs within the industry. We have a highly trained Management Team, and each person has their own unique, creative abilities to produce great quality food and a dining atmosphere that will keep bringing customers back.  
We maintain a highly professional team that is focused on customer service, which allows us to maintain and fulfill a high level of service standards. We strive to understand your specific food service objectives and will respond accordingly.