Healthy
Vending Machines Albuquerque, Santa Fe, Rio Rancho, Los Lunas, and Belen
More is better! Want more of the foods that have less fat, calories and sodium?
Canteen of Central New Mexico is the recognized leader in healthy vending. From schools to the workplace, we have embraced snacking choices (Balanced Choices) in our machines. Providing healthier options is not as simple as replacing the Snickers with the Granola Bars any more.
To underscore our commitment, Canteen of Central New Mexico promotes healthy alternatives in our vending machines. Our Balanced Choices program offers products low in sugar and fat by providing a green sticker marker for consumers to locate vending choices, which support healthy alternatives in snacking.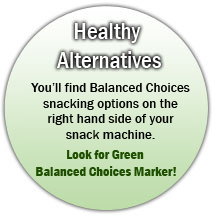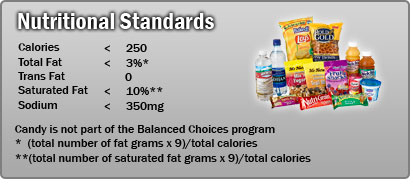 Selection of Healthy Choices
Beverages
Snacks
Food
Bottled Water
Trail Mix and Assorted Nuts
Soups
Assorted Juices
Fruit Snacks
Sandwiches
Sports Drinks
Animal Crackers
Fruit Cups
Diet Beverages
Vegetable Chips
Lean Cuisine
V8
Baked Lays
Yogurt
Milks
Granola Bars
Tuna Kit